St. Cuans Latest News
Subscribe to posts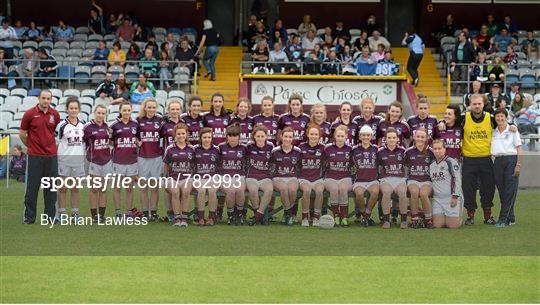 Galway MInor Ladies were crowned All Ireland champions on the 14th of August after an epic game in which Galway scored 2 goals in injury time to clinch the title. Well done to Meghan Kelly and Emma Reaney who started up front and also Nicole Conway who was unlucky to get the start on the day. It is a huge achievement for the three girls and the club is extremely proud of them.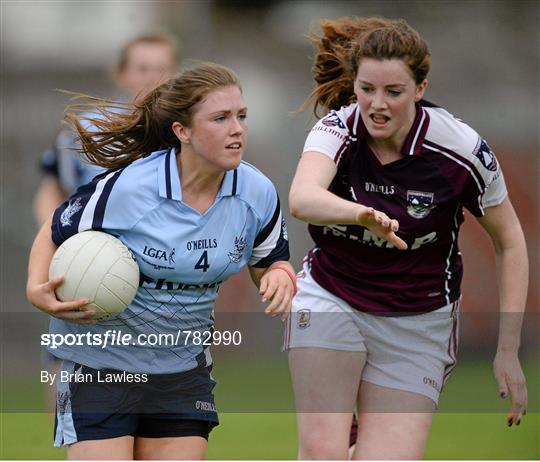 Meghan Kelly in action for Galway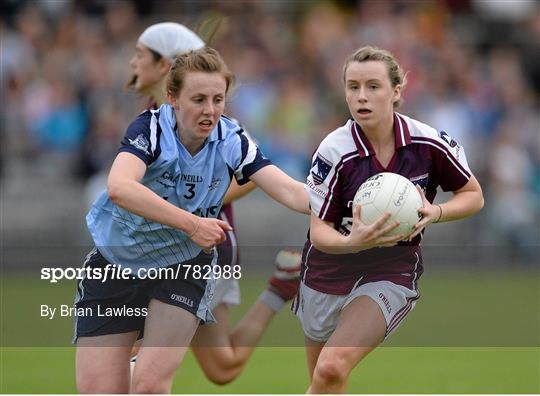 Emma Reaney on the ball for Galway
GALWAY MINOR LADIES FOOTBALL PLAY DUBLIN IN THE MINOR ALL IRELAND THIS BANK HOLIDAY MONDAY (August 5th) IN NENAGH AT 3.15 PM. WELL DONE AND THE VERY BEST OF LUCK TO NICOLE CONWAY, EMMA RAINEY, MEGHAN KELLY AND THE GALWAY TEAM. PLEASE GO AND SUPPORT THE GIRLS IF AT ALL POSSIBLE.
Caltra Cuans Ladies Football
The seniors had a good win over Grainne Mhaols out in Letterfrack last Sunday (28th July) in the second round of championship. Grainne Mhaols battled well throughout but the Caltra girls played some great football and ended up coming away with a convincing score-line of 3.20 to 1.7. It was a great team performance and they now look forward to hopefully a county semi-final depending on other results. A big word of thanks to the supporters who made the long trip out to Letterfrack to support the team.
Team:
Lucy Greene, Cariosa McHugh, Nicole Conway, Helen Cullinane, Aoife Ni Cheallaigh, Sarah Noone, Denise Kelly, Laura Naughton, Niamh Kilkenny, Theresa Loughnane, Emma Naughton, Sinead Mannion, Ciara Naughton, Gemma Kelly, Orlaith Hannon
Subs:
Aine Tully, Emma Rainey, Sonia Mulryan, Ciara Mannion, Meghan Kelly, Aisling Hynes, Caoimhe Ni Cheallaigh, Ciara Leonard, Aisling Gavin, Emma Burke, Yvonne Hannon, Ciara Kilroy, Sinead Flood
The senior team travelled out west last Sunday to play Leitir Mor in the league. A good team performance earned them a win with a score line of 4-15 to 11 points in the finish. They now look forward to heading out west again this coming Sunday where they will take on Grainne Mhaols out in Letterfrack at 2pm in the next round of championship. This is a very important game for the girls and your support would be greatly appreciated. Team and Subs last Sunday: Lucy Greene, Helen Cullinane, Nicole Conway, Cariosa McHugh, Aoife Ni Cheallaigh, Sarah Noone, Laura Naughton, Meghan Kelly, Niamh Kilkenny, Sinead Mannion, Emma Naughton, Theresa Loughnane, Orlaith Hannon, Gemma Kelly, Ciara Naughton, Sonia Mulryan, Aisling Hynes, Caoimhe Ni Cheallaigh, Ciara Mannion, Aisling Gavin, Emma Burke, Yvonne Hannon, Sinead Flood.
Hard luck to the U-16s who were beaten by Moycullen in the league this week, 10-20 to 6-9.
Congratulations to Meghan Kelly, Nicole Conway and Emma Rainey and the Galway Minor Ladies team who have qualified for the All Ireland Minor Final after defeating Cork in the semi final 3-17 to 4-07 at the weekend.
Thanks to everyone who generously supported our recent church gate collections and the lotto. Your support is greatly appreciated.
Best of luck to Meghan Kelly, Nicole Conway, Emma Rainey and the Galway Minor Ladies team who will face Cork in Gaelic Grounds Limerick this Saturday the 20th of July at 2pm. This is the All Ireland semi-final. All the best girls from all in Caltra Cuans!
Galway U-16s are playing in the Connacht final today (13th of July) in Ballyhaunis at 4.30pm against Mayo. All the club would like to wish the very best of luck to Ciara Naughton and Ciara Mannion who are part of the panel. Bring home the silverware girls!!!
***** Caltra Cuans Ladies have the Ahascragh/Caltra Lotto this weekend (13th/14th July) so please get out selling and buying to raise some funds for the club *****
Seniors Lose out to Corofin in first round
The senior team lost out to Corofin in the first round of championship last Sunday in Caltra by a score-line of 2-15 to 12 points. They were unlucky that they did not convert more after playing some very good football throughout the game. They are still in the shake up for the championship and will face Grainne Mhaols away in two weeks time where a win would put them through to a county semi final. It was great to see such a crowd out to support the girls. Team and panel on Sunday were as follows:
Lucy Greene, Sinead Flood, Nicole Conway, Helen Cullinane, Aoife Ni Cheallaigh, Laura Naughton, Denise Kelly, Meghan Kelly, Niamh Kilkenny, Theresa Loughnane, Emma Naughton, Sinead Mannion, Orlaith Hannon, Ciara Naughton, Emma Rainey
Subs: Gemma Kelly, Aine Tully, Sonia Mulryan, Aisling Hynes, Ciara Mannion, Aisling Gavin, Niamh Gately, Sarah Noone, Cariosa McHugh, Ciara Leonard, Yvonne Hannon, Emma Burke
Well done to all the under-age players who took part in the Michael Meehan Camp last week. The club would like to thank Michael for running the camp where the girls were able to improve their skills and enjoy a week of football with their friends. From now until the end of the summer there will be training/skill session on Wednesdays in Caltra pitch for all primary school children in the parish. It will run from 10.30 am to 12 noon starting on July 10th. Senior players and coaches will be coaching at these sessions and will be aiming to develop our young players football skills. It would be great to see all our young players there and everyone is welcome.
**** The senior team are out in the first round of championship on the 7th of July (Sunday) at 6.30 pm in Caltra. They face county champions from last year Corofin. It is a home game and the first big game of the year so please come along and support the girls.******
Caltra Cuans Ladies Senior game cancelled today due to bad weather, pitch was unplayable.
Caltra Cuans Ladies football
U12 LADIES MATCH REPORT
CALTRA U12 LADIES PLAYED COROFIN AMBERS IN THE 2ND ROUND OF THE GAELIC FOOTBALL CHAMPIONSHIP ON TUESDAY THE 11TH OF SEPTEMBER IN BELCLARE. CALTRA HAD A NEAR FULL STRENGTH TEAM AND SHOWED THEIR INTENT WITH A FEW EARLY SCORES. ALTHOUGH CORFIN WERE PLAYING WELL, BY HALF TIME THE CALTRA LADIES WERE LEADING 3-4 TO 6-7. CALTRA KEPT GOING WELL IN THE 2ND HALF ALSO AND EVENTUALLY RAN OUT WINNERS ON A FINAL SCORE LINE OF 4-4 TO 8-9. WELL DONE TO ALL INVOLVED. THE TEAM WAS AS FOLLOWS:
RACHEL KELLY, KATIE FLAHERTY, KAYLIN LYONS, EMMA CARROLL, TARA KILGANNON, SHARON HENEGHAN, KEEVA O'CONNOR, ASHLING TYRELL, AISLING COOLEY, CIARA CUSACK, SORCHA LEONARD, RACHEL O'CONNOR, ANNA MOCKLER, CIARA MURRAY, GEORGIA MULRYAN, ALYSSA JACOB, EMMA MOCKLER, SARAH McDONNELL, TAYLAR HIGGINS.
Caltra U12 girls played Tuam/Cortoon in the third round of the championship in Caltra on Wednesday evening. They came out clear winners with a scoreline of Caltra 9-11 to Tuam/Cortoon 3-7. This was the last game of the championship having beaten Corofin last week but losing out to Caherlistrane the previous week which left them 2nd on the championship table.
Thanks to management and trainers for all their work and commitment throughout the year.
Team:Allysia Jacob,Katie Flaherty,Kaylin Lyons,Emma Carrol,Keeva O Connor,Sharon Heneghan,Tara Kilgannon,Aisling Tyrell, Aisling Cooley,Ciara Cusack,Sorcha Leonard,Rachael O Connor,Anna Mockler, Ciara Murray,Georgia Mulryan,Emma Mockler,Sarah McDonnell,Fiona Fleming,Tayler Higgins .
Well done to our Minor ladies who beat Moycullen in the Minor B semi final on Sunday with a scoreline of 4-20 to 1-9.
Thanks to all who helped out with bag packing at the weekend which is part of our annual funraising.
The club sends its condolances to the Geraghty family on the death of Mrs May Geraghty.